Projects like Follow the Things not only embrace but extend the premise by demonstrating that things not only have social lives, but rather interesting ones&emdash;complete with momentous beginnings and ignominious ends. As public and scholarly discourse increasingly grapples with the disconcerting realities of consumerism and the disquiet wrought by its productive methods, FtT is one of a few recent efforts that helps to reassemble the critical role things play in consumption, commerce, and the simple act of communication between humans and nonhumans.
What is notable about the work is not its depth of detail, which is significant—articles on the site's "products" often clear five thousand words of description, meticulously catalogued references, discussion, and impact analysis that treat scholarly articles, popular discourse, documentaries, forums, and artistic installations—but rather the breadth of initiatives it brings under its banner. A favorite of mine is the "Made in Lego" series, which recreates contemporary accounts of the disjunctures between production, consumption, and everyday life. Not only do these lego enactments produce openly assembled bespoke imagery, imagined encounters, and clever juxtapositions, they invite construction in the literal and figurative sense.
This creative and playful diversity of method is part of a deliberate pedagogy bringing humans into closer communion with their nonhuman counterparts. Beyond the mere acknowledgement that things "have" social lives, FtT takes serious the need to not only gesture toward these biographies, but to make manifest the complex narratives contained within them.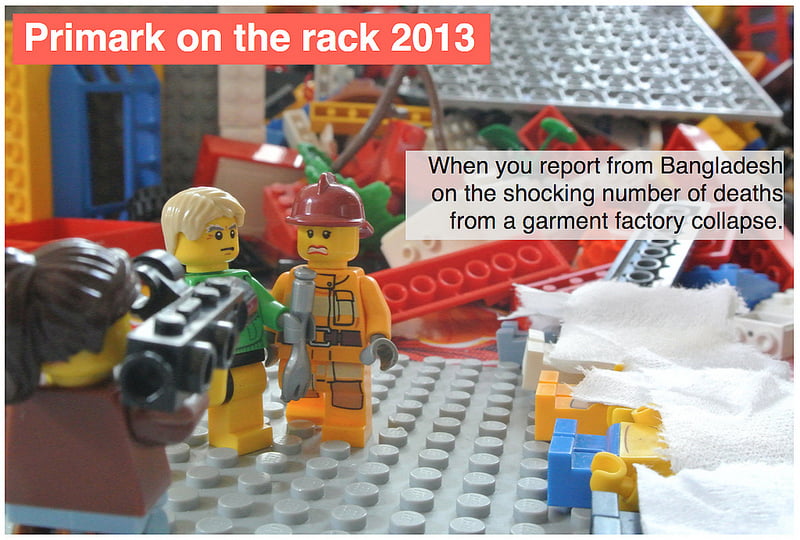 Rescue workers and people look[ed] for survivors after an eight-story building housing several garment factories collapsed in Savar, near Dhaka, Bangladesh, Wednesday, April 24, 2013. Dozens were killed and many more are feared trapped in the rubble (Source: Alam 2013 www.seattlepi.com/news/world/article/87-dead-in-Banglades…)

Hopes of finding more survivors in the wreckage of a collapsed garment factory in Bangalesh all but disappeared on Sunday night when a fire broke at the site of a disaster that has already claimed the lives of 377 people. Among the dead was the last known survivor of the building's collapse five days ago, the national fire chief told AFP news service. Rescue crews and firefighters were shown weeping on live television after the death of a women garment worker, identified as Shahnaz, who had clung to life for more than 110 hours after [the] disaster (Source: Black 2013 worldnews.nbcnews.com/_news/2013/04/28/17956849-fire-brea…).

This is part of a 6 scene set: www.flickr.com/photos/followthethings/sets/72157632897292…
The rest of the story is here www.followthethings.com/primark.shtml